The Ultimate Burn (SLWM3)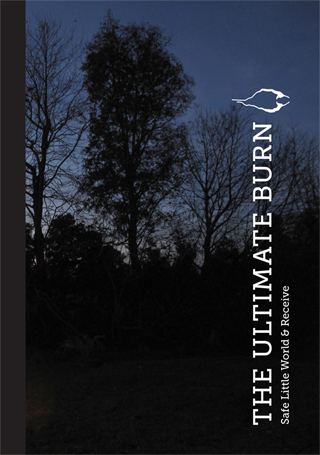 The third in the Safe Little World Monograph series, The Ultimate Burn is a collaboration between Andrew Killick and Dean Ellery (aka Receive) that investigates the element of fire.
Primarily documenting, via 32 full colour photographs, a burn performed by Dean in June 2017, the book expands into a wider mediation and exploration of an archetypal metaphor that appears and reappears in the human imagination. The photographs are overlaid by motifs and symbols designed by Dean, and the resulting images are supported by original writing and a collection of quotes.
An encounter with the wonder of fire.
Purchase via PayPal by clicking the button below (no PayPal account required) (NZ$), and/or click on the support button to subscribe to the Safe Little World Monograph series via Patreon (US$).
The Ultimate Burn (SLWM3)
148 x 210 mm, softcover, cloth tape bound
72 pages, including 32 high quality full colour pages
ISBN 9780995118942
NZ$25.00 (inc postage worldwide)
A hardcover special edition (ISBN 9780995118959 SLWM3S) printed on uncoated stock will be available soon. Contact us to put your name down for a copy.