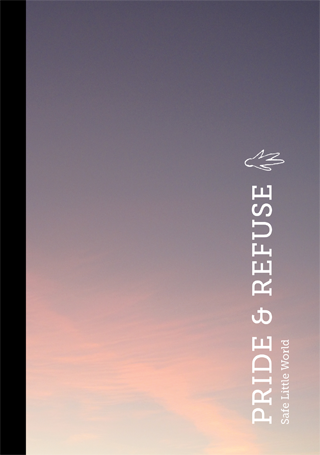 The fourth in the Safe Little World Monograph series, Pride & Refuse by Andrew Killick examines the pitfalls, potentialities and aspirations of humankind.

Combining photographic images and graphic interventions with exhibition documentation, original writing and quotes, the project takes its title from Blaise Pascal's Pensées in which the 17th century polymath deals with the paradox of what it means to be human: 'Judge of all things, imbecile worm of the earth; depositary of truth, a sink of uncertainty and error; the pride and refuse of the universe.'
Beautiful, playful and poignant. Click here to view sample pages.
Purchase via PayPal by clicking the button below (no PayPal account required) (NZ$), and/or click on the support button to subscribe to the Safe Little World Monograph series via Patreon (US$).
Pride & Refuse (SLWM4)
148 x 210 mm, softcover, cloth tape bound
84 pages, including 34 high quality full colour pages
ISBN 9780995118966
NZ$25.00 (inc postage worldwide)
A hardcover special edition (ISBN 9780995118973 SLWM4S) printed on uncoated stock will be available soon. Contact us to reserve your copy.